BROWARD FLAG HOME PAGE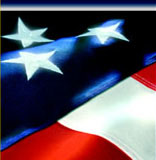 HERCULES™ U.S. OUTDOOR FLAGS
EMBROIDERED STARS AND SEWN STRIPES

All of our United States flags are made from the finest materials and having quality workmanship. Featuring large size embroidered stars, double-stitched stripes, multiple rows of stitching on the fly-end with hem for added strength and durability. Heavy canvas heading with large brass grommets. Brilliant fast colors. Exceed U.S. Government specifications.
Buy 3 or more of the same size and material and receive an even better price! (see chart below)
Larger quantity discounts available - call for quotes.
Choose your size and click the price to add to your shopping cart.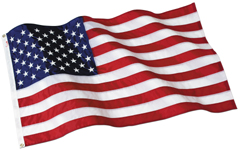 Combine the radiance of nylon with the extra durability of polyester and you have our newest material - Hercules Polyester! Hercules flies better than our regular Polyester because it has a more open weave and is lighter-weight. Widely used in wet and windy areas. Great for 24 hour use/365 days a year.
DETERMINING FLAG SIZE
A rule of thumb in determining the appropriate flag size for sizes 3'x5' and larger is that the length of the flag should be at least 1/4 the height of the flagpole. For example, a 3'x5' flag is most appropriate with a 20' flagpole. A 4'x6' uses a 25' pole and a 5'x8' for a 30' pole, etc. For use on a decorative pole, a 2'x3' flag would use a 5' pole. A 3'x5' uses a 6' pole and a 4'x6' uses an 8' pole. The height of the pole should determine which size flag to use.

| | | |
| --- | --- | --- |
| Height of flagpole | Minimum size | Maximum size |
| 15ft | 2.5ft x 4ft | 4ft x 6ft |
| 20 ft | 3ft x 5ft | 5ft x 8ft |
| 25 ft | 3ft x 5ft | 5ft x 8ft |
| 30 ft | 4ft x 6ft | 6ft x 10ft |
| 40 ft | 5ft x 8ft | 8ft x 12ft |
| 50 ft | 6ft x 10ft | 10ft x 15ft |
| 60 ft | 8ft x 12ft | 12ft x 18ft |
| 70 ft | 10ft x 15ft | 15ft x 25ft |
| 80 ft | 10ft x 19ft | 20ft x 30ft |
Copyright © 1976-, Broward Flag & Display Co. All rights reserved
Information submitted by Broward Flag & Display Co. on the internet is believed to be accurate and reliable at the time of submission. Broward Flag & Display Co. reserves the right to make changes in prices, products, and specifications without notice. All trade names/trademarks are the properties of their respective owners. All other product names and logos are trademarks of their respective owners.