MARINE FLAGS
THE BEST IN MARINE FLAGS!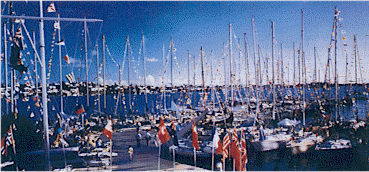 Featuring heavyweight 200 denier Dupont SolarMax Nylon fabric. Machine
sewn using lock stitching that helps prevents fraying and tearing. Special
dyeing process insures that the color penetrates completely into and
through the Nylon fabric for extra fade resistance and bright durable colors!
Please click on a flag below to see size availability, price and to
place your order.
All flags have embroidered stars and sewn stripes with strong canvas heading and brass grommets.


U.S. Yacht Ensign

U.S. Power Squadron

Coast Guard Auxiliary

U.S.A. Flag

U.S. Union Jack
Yacht Club Officer's Flags


Beautifully sewn or embroidered designs on lustrous 100% Nylon. All flags are 12"x18" and packaged in reusable storage containers. Also available in 4"x6" Desk size.

Commodore

Vice-Commodore

Past Commodore

Treasurer

Rear Commodore

Fleet Captain

Secretary
Specialty Message Flags


12" x 18" NYLON

Absent

Skin Diver

Meal

Guest

Quarantine

Protest

CUSTOM BURGEES & FLAGS



Brilliant appliqued or screen printed designs on long lasting SolarMax Nylon fabric for youryacht club or personalized for yourself in any size, color and design! Please call for pricing.
MARINE FLAG INTERNATIONAL CODE OF SIGNAL SETS


Set of 40 flags. Double-stitched, durable Nylon material with rope and toggles. Includes (26) Alphabet flags, (11) pennants and (3) substitutes. Packaged in handy carrying bags.

Flags are made with rope and toggles. Please specify on order form if you would prefer heading and grommets.

Individual flags may be purchased with either Rope and Toggles or Heading and Grommets.
FUN FLAGS
12" x 18" Nylon with canvas heading & brass grommets $13.90 Each.
Embroidered Flags are $15.90 Each.
FISH FLAGS
12 " x 18" Nylon with canvas heading & brass grommets
$13.90 Each

PERSONAL BOW PENNANTS


10" X 15" Nylon with canvas heading & brass grommets
$9.50 EACH
Broward Flag & Display Company
527 McDowell Street
Asheville, NC 28803
828-258-9295 • 1-800-476-FLAG (3524)
Fax 828-258-3388
Email: browardd@aol.com
Privacy Statement
http://browardflag.com


Copyright © 1976-, Broward Flag & Display Co. All rights reserved
Information submitted by Broward Flag & Display Co. on the internet is believed to be accurate and reliable at the time of submission. Broward Flag & Display Co. reserves the right to make changes in prices, products, and specifications without notice. All trade names/trademarks are the properties of their respective owners. All other product names and logos are trademarks of their respective owners.