BROWARD FLAG HOME PAGE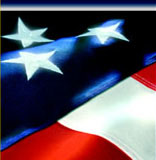 Miniature Flags, Desk Sets, Classroom Flags
& Flag Stands
Ideal for Promotions - Decorations - Holiday Events - Parades - Classrooms - Gravemarkers
Check out our U.S. Miniature flags for both outdoor and indoor use. We offer flags and stands for table-top flags and remember, many of our most popular flags that you see on our site are available in 4"x6" sizes with or without bases.
You will find many of our State, Historic, Military and Racing 4" x 6" Sets featured on their corresponding pages.

U.S.A. MINIATURE 100% COTTON FLAGS
(Mounted on wood staffs with gold spears)
Perfect for: Promotions, Grave Markers, Decorations, Parade Handouts, Classrooms, etc.
U.S.A. Miniature 100% Rayon Flags
(Mounted on black ebonized staffs with gold spears)

Perfect for: Classrooms, Promotions, Decorations, etc. (Not intended for use outdoors)
HEMMED EDGES
Christian Miniature Flags
| | | |
| --- | --- | --- |
| Sizes | Nylon | Poly Cotton |
| 4" x 6" w/ 10" staff | $2.75 | ------ |
| 8" x 12" w/ 18" staff | $6.50 | ------ |
| 12" x 18" w/ 30" staff | $8.90 | ------ |
| 12" x 18" for Graves w/ 30" whitewood staff | ------ | $4.98 |
| 16" x 24" w/ 36" staff | $12.50 | ------ |
| 24" x 36" w/ 48" staff | $19.90 | ------ |
CLASSROOM BRACKETS
Made of durable steel with a black enamel finish. Holds staff diameters 3/8"-5/8".

$3.90 Each

$42.00 Dozen
MINIATURE DESK SETS
These attractive 4" x 6" sets make ideal gifts, banquet and convention favors.

REGULAR DESK SETS
Beautiful 4"x6" rayon flags mounted on ebonized plastic staffs with gilt spearheads and appropriate style black ebonized plastic base. All sets are individually packaged.
Choose between any U.S., State, Foreign, Religious, Historic or Armed Forces flags. Please specify flags desired on order form.

Deluxe U.S. Desk Sets
4"x6" Rayon U.S. flags finished with golden yellow fringe, cord and tassels, mounted on brass finish staffs with spearhead ornaments. Individually packaged.

One-flag Set
$4.25
One-flag Set Deluxe
$13.50
Two-flag Set
$6.90
N/A
N/A
Three-flag Set
$9.90
N/A
N/A
Four-flag Set
$12.90
N/A
N/A
Five-flag Set
$14.90
N/A
N/A
Six-flag Set
$17.90
N/A
N/A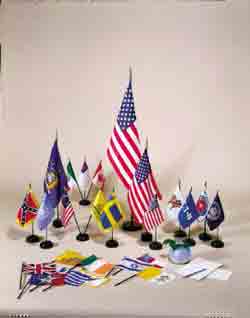 Miscellaneous Miniature Rayon Flags
4"x6" Rayon flags with 10" black staff and gold spear. Hemmed edges.
Available in U.S.A, All 50 States, All Countries, All Religious, Army, Navy, Coast Guard, Marines, Air Force, POW/MIA, Christian and most Historical flags. Mix and Match with our flag sets including black flag stand below or you may order individually.
Indicate in the comment section at check-out which State, country, etc that you're ordering.
Many of our miniature flag sets are already made up and available on their appropriate pages.
See Racing set, Historic sets, Military set, 50-State Flag set and miniature Foreign Country set.
4"x6" individual flags
$2.75 Each
Copyright © 1976-, Broward Flag & Display Co. All rights reserved
Information submitted by Broward Flag & Display Co. on the internet is believed to be accurate and reliable at the time of submission. Broward Flag & Display Co. reserves the right to make changes in prices, products, and specifications without notice. All trade names/trademarks are the properties of their respective owners. All other product names and logos are trademarks of their respective owners.