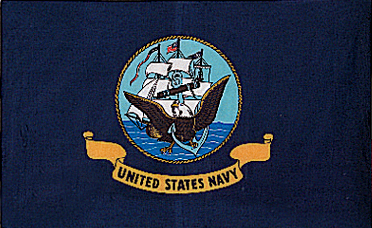 The Department of the Navy Seal was created in 1957 to serve as the main feature of the official United States Navy flag, adopted two years later by Presidential order April 24 1959 .

The flag for the United States Navy is dark blue and in the center of the flag is the inner pictorial of the Navy Department seal with the exception that a continuation of the sea has been substituted for the land area within a circular yellow rope edging above a yellow scroll inscribed "United States Navy," in dark blue letters.

Unlike the national ensign, commission pennant, union jack, and admiral's broad pennant which fly from gaff, mast, or staff on board naval vessels, the flag of the United States Navy is reserved for display purposes and is carried by an honor guard on ceremonial occasions.