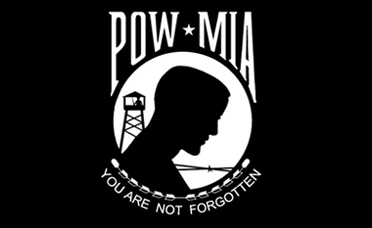 In 1971 Mrs. Michael Hoff, an MIA wife, recognized the need for a symbol representing our Prisoners of War and Missing in Action. Mrs. Hoff contacted Norman Rivkees, Vice-President of Annin & Company and found Mr. Rivkees very sympathetic to the Prisoner of War/Missing in Action issue and he, along with Annin's advertising agency, designed a flag to represent our missing men and women.

Since its inception this stark black and white flag, which was designed on behalf of American POW/MIAs from the Vietnam War, has come to represent our missing countrymen and women from all wars.

On 10 August 1990, the 101st Congress passed US Public Law 101-355, which recognized the POW/MIA flag and designated it "as the symbol of our Nation's concern and commitment to resolving as fully as possible the fates of Americans still held prisoner, missing and unaccounted for in Southeast Asia, thus ending the uncertainty for their families and the Nation.

Those Americans who fly the POW/MIA flag do so to demonstrate their loyalty and sincere dedication to all Prisoners of War and Missing in Action, and to their safe return - both alive and dead.

Flag etiquette specifies that the POW/MIA flag may be flown below the American flag and/or a state flag. However, it's size must be equal to or smaller than the flag that is flying above it. The correct order for three flags being flown on the same flagpole is the national flag, the state flag, and then the POW/MIA flag.


100% Nylon and Polyster Outdoor Flags available in Single Seal (reads correct on the front side, reverse on the back) and Double Seal (reads correct on both sides).