Click the flag size and material you would like to add to your shopping cart.
Stars and Bars Flag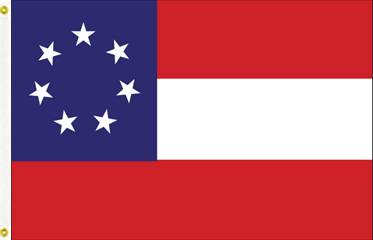 When the Southern States seceded from the Union, each used its own flag in place of the Stars and Stripes. Also known as the First National Flag, the Stars and Bars was adopted on March 4, 1861 by the assembly of Montgomery, Alabama. They retained the blue canton of the United States Flag and used stars to represent the states. They replaced the stripes with alternating red and white "bars" which led to its popular name.
Flag Materials
Copyright Copyright © 1976-, Broward Flag & Display Co. All rights reserved
Information submitted by Broward Flag & Display Co. on the internet is believed to be accurate and reliable at the time of submission. Broward Flag & Display Co. reserves the right to make changes in prices, products, and specifications without notice. All trade names/trademarks are the properties of their respective owners. All other product names and logos are trademarks of their respective owners.